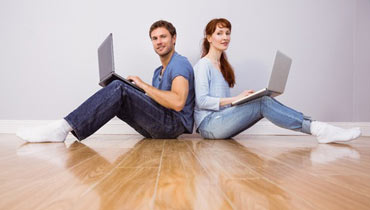 Every parquet floor fitting is one of a kind experience such as every parquet wood block is unique. Although we approach to every project for our domestic and commercial clients in London with our core values such as professionalism, attention to details and respect, we also try to keep our personal style and provide individual experience and approach in order to offer pleasant results for everyone and to find the best battle plan for the requirements of the project. So it is really important to be part of our community network and to share your experience with our company. Your feedback, comments and notes are welcome in order to create a variety of parquet floor fitting impressions and to help others to make their wise and informed choice. In addition, the ideas, recommendations and reviews you share with us help us to improve and get more sensitive to the needs and demands of our clients. Feel free to leave your comments, we highly appreciate the time you take to help us! Thank you!
Testimonials
I am impressed with the results! The both technicians were super polite and friendly and put a lot of hard working into the project! Thank you once again, I will recommend you to everyone around
The expert made amazing job in my bedroom and kitchen! I am really pleased with my new chevron pattern parquet flooring, haven't expected it will look that good! Thank you, I will recommend you for sure!
I am pleased with the result. The ratio between price and service is satisfying.
I haven't expected such an excellent result and beautiful flooring. In addition, the both experts are really polite and hard working.
Excellent job! Thank you once again, I am really pleased! Definitely will contact you in some time, I want to hire you once again for my office.
I am really pleased with the performance of the professional, who visited me and done the job. It was amazing experience to count on him for my home and also my little office and I am surprised by the price of the both projects and the quality of the final results
The installation was done according to highest safety standards. Our school is really pleased to experience you excellent parquet floor fitting service and the pleasant prices. Thank you!
Perfect! Thank you! Your performance was just excellent, very timely, very affordable, perfect for small business owners.
Great work and a lot of respect. I was this unusual idea for bespoke parquet flooring and these guys made it come true! I didn't expected so much creativity.
Very professional service, amazing prices, timely manner, what more I can ask for? Thank you, I will definitely recommend you to my friends and family!
First of all – very friendly and polite customer service and technicians you have. Thanks to them now I know how properly to maintenance my newly installed floor and my wife is happy, because now she has very timely and easy cleaning strategy suggested by the experts.
Thank you. I am really impressed and pleased. My newly installed parquetry floor looks more than amazing. I will be proud to show it to my friends, because it is really impressing and eye-catching.
Good job and also the prices. I am planning a floor remodeling in my restaurant in about two months and I will definitely contact you again. The services you offer for these prices are excellent.
I am pleased with the result. At first I considered laminate, because it is really affordable, but I am glad I finally decided to have parquet floor.
Besides the beautiful parquet floor I have now in my club, I am impressed also by the respect your technics have to the clients and the additional information they provide. I will update you soon on how things are going for my floor and if my clients are impressed.
Thank you, as I already shared with the both technicians, I am really pleased. Wish your services were available also out of London, so I can hire you again for my family house in Nottingham.