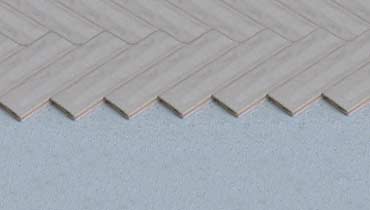 Parquet flooring is undisputedly the king of wooden flooring and there is a reason behind that. Parquet flooring dates back to the 17th century when it replaced the marble floors of Versailles because of its beauty, uniqueness, low-maintenance features and many more benefits. It used to be accessible only to the rich until the industrial boom made this type of wooden flooring gain more and more popularity. Still, parquetry is a symbol of luxury, elegance and warmth whenever it's installed. It is an asset for domestic and commercial projects.
Besides the visual enjoyment of the great variety of patterns, compositions and designs of the mosaic installation, parquet blocks are installed and available in hardwood or engineered wood options and bring extra stability, sturdiness, longevity and durability. If properly fitted, your parquet flooring will last forever and impress everyone.
Laying parquet flooring can only be done only by the hands of experienced parquet floor fitters. Planning such floors will require skilled and reliable flooring company or parquet floor fitters with a background in installation and finishing as they are both challenging.
Your imagination and your fitters can create amazing mosaic compositions - it is a floor that needs the craft, the knowledge and the creativity. Our Parquet Floor Fitters technicians dedicated their knowledge and skills in order to create an excellent parquet floor installation system, which can please everyone's demands and desires. We will not only provide all the essential stages of the process and create amazing results but we also have an individual approach and know how to react in specific even challenging situations and provide timely, affordable and professional service for all our clients in London.
We Supply & Fit Parquet Blocks
Our range of oak parquet blocks includes various sizes and grades. We do oak blocks in the following sizes - 70x230 mm, 70x280 mm and 70x350 mm blocks in 20 mm thickness. All our blocks come available in prime, natural and rustic grades. Occasionally we run offers with extra-rustic blocks, which start from £15.00 per sqm.
We supply and installation of engineered parquet blocks as well, which is ideal for floors with underfloor heating and comes prefinished in various species like maple, beech, walnut and others. Another product of parquet blocks supply and install service includes mosaic fingers flooring in 480x480 mm, meshed panels in prime oak timber.
I am impressed with the results! The both technicians were super polite and friendly and put a lot of hard working into the project! Thank you once again, I will recommend you to everyone around
The expert made amazing job in my bedroom and kitchen! I am really pleased with my new chevron pattern parquet flooring, haven't expected it will look that good! Thank you, I will recommend you for sure!
I am pleased with the result. The ratio between price and service is satisfying.
I haven't expected such an excellent result and beautiful flooring. In addition, the both experts are really polite and hard working.