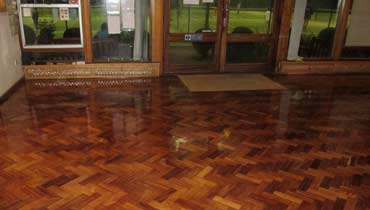 Parquetry is not the common flooring installation you can find in most commercial buildings and areas. Since it is not the most affordable choice it is easy to tell why. However, let's be real, it doesn't come with a lower installation price because of the laborious job but it comes with the visual pleasure you can bring to your clients, visitors and co-workers in case you are a businessman or restaurant owner, or you need retail parquet floor fitting. Parquetry is the type of mosaic installation of hardwood or engineered wood blocks in various patterns and styles and because the wooden blocks can be made from various wood types, colours and textures, this is practically suitable for every style and idea. In addition, the blocks made from real or manufactured wooden products have the character of the natural wood types and create a long-lasting, durable and solid composition, which is easy to maintain, refinish and clean. For commercial projects, we could become your best choice in the London area.
Parquetry origin comes from France during the 17th century when this type of floor installation had been popular among rich people. It is not accidental some people call it the king of the wooden flooring because it was the French kings who first have enjoyed parquet installations in the ballrooms and bedrooms of Versailles and aristocratic chateaus. With the industrial boom and the Art Nouveau philosophy in the interior and exterior design, it starts to gain more and more popularity among the common people, although it's, in fact, even nowadays still a sign of luxury, elegance and often called the golden classic. It is surprising people still find parquetry unobtainable since the modern and advanced techniques, methods and materials allow everyone to enjoy it in their home or office. Our mission as the best commercial fitting company in London is to create professional looking installations which will impress everyone, come at affordable and fine prices, are done in no time and with respect to the busy schedule of our business clients and last but not least, will remain for a long time, requiring really low maintenance.
There are few simple rules when you are installing this kind of wood product and following them is your guarantee for success. It doesn't matter if the blocks are cut from solid or engineered wood material, the best way to fit them is directly on the subfloor with a quality wood adhesive. However, the base, especially if concrete, must pass the very important moisture, cleanness and evenness test for best results. In the case of concrete or another type of subfloor that can't be even or dry for some reason or if there are other things you should consider such as underfloor heating, running cables and pipes, our specialists will suggest other installation options and will find what matches the specific demands of your project the best. Our experts add a little twist to the installation methodology, making it suitable especially for commercial projects. We recognise the needs of the business project and don't allow the limited time and budget to reduce the quality of our job. So we've designed a special service for you, the commercial clients, which have to provide the best results possible in a timely, affordable and hassle-free manner.
Testimonials
I am pleased with the result. The ratio between price and service is satisfying.
I haven't expected such an excellent result and beautiful flooring. In addition, the both experts are really polite and hard working.
Excellent job! Thank you once again, I am really pleased! Definitely will contact you in some time, I want to hire you once again for my office.
I am really pleased with the performance of the professional, who visited me and done the job. It was amazing experience to count on him for my home and also my little office and I am surprised by the price of the both projects and the quality of the final results
The installation was done according to highest safety standards. Our school is really pleased to experience you excellent parquet floor fitting service and the pleasant prices. Thank you!