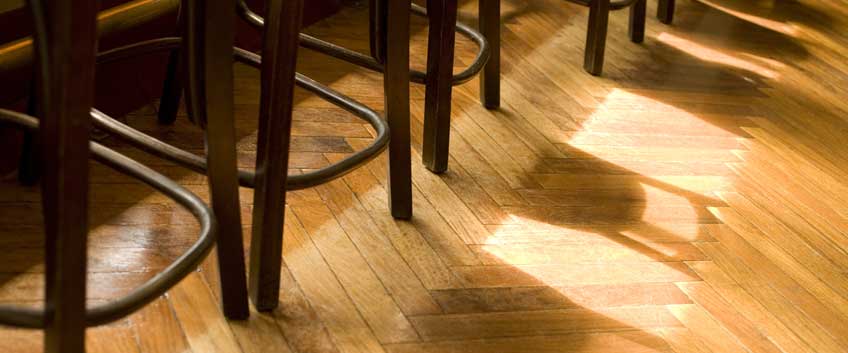 High traffic tends to be one of the most serious issue causes when it comes to wood flooring. Although wood is a pretty hard-wearing and long-lasting product that brings sturdiness and solidness anywhere where installed, wooden floors are still pretty sensitive to some things like moisture, humidity and especially high traffic. Because of that wooden floors installed in busy areas, where high traffic can be an issue, have to be treated and maintained properly and protected with specially designed finishing product applied on the surface and adding extra preservation of the colour, texture and structure. So, when making decisions and considering what is the best choice, be sure to keep in mind everything we will share with you today.
High footfall
High footfall refers to the number of people who visit the place, where the wooden floor is installed within a certain amount of time, usually within a week, or within a month. People running a business are very familiar with the term, especially people that have wooden floors installed in their workplaces. Overall, the more people visiting the place, the more damages are expected left on the surface of the floor. In fact, damages won't happen, if you make sure that the top finishing coat is way maintained and not worn off.
It highly depends on the type of finish itself but maintaining and re-coating it twice every year is a good frequency that will give you the peace of mind that your wooden floor is well-protected. Otherwise, when the finish is worn off and the bare wood underneath exposed, it may be damaged by a number of imperfections including scratches, dents, etc. Otherwise, when it comes to domestic settings, any wooden floor can also be a subject of high footfall and the issues included, especially in houses with big families or many occupants.
Heavy footfall
Heavy footfall represents the foot traffic in a room coming from heavy-soled shoes or heavy objects dragged over the floor. Usually, the places suffering heavy footfall at home are hallways, stairs, entrance halls, etc. Commercial places also often suffer heavy footfall.
Solutions
Of course, there are many ways to prevent and avoid all the damages that could be left from high and heavy footfall. Prevention is the best care and if high traffic is expected, then you have to consider the right wood flooring and finishing product choice before the installation process itself. Go for naturally stronger and more solid wood species and finishes that are highly hard-wearing like polyurethane. You also have to be aware of the characteristic features of any wooden floor and be ready to handle any situation properly. In general, go for the best floor you can afford. Pricing is often a clear sign of high quality and when making such an investment, you have to go for longevity. And this is an investment that will certainly pay off with time. Do not underestimate the power and importance of preparation too, because preparing the subfloor and letting the materials acclimatise before the installation process will guarantee longer and happier life for your wooden floor.