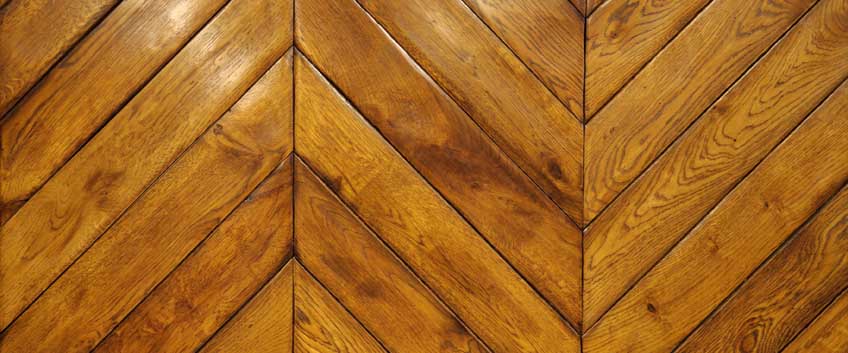 You want a hardwood flooring that stands out and makes a statement? Then parquetry patterns are the best option for you! For already centuries parquetry patterns like chevron and herringbone are a symbol of style, class, elegance and individuality. The fact that wood flooring patterns that are designed hundreds of years back in time are still very trendy and can suit all modern interior design styles only shows, that chevron and herringbone have quickly won over the hearts of many people around the world and are definitely here to stay for a long, long time.
Chevron parquet pattern is often referred to Herringbone pattern, but they are not the same thing, although they look similar. Both patterns differs by the edge of plank that is completely square for Herringbone, where two planks meet and cut at angle 30-45 degrees for Chevron pattern so that the pattern V is created by fitting down row by row.
Which are the benefits of having your wooden planks installed in Chevron pattern?
There are a number of benefits and advantages of this pattern over the other patterns and design available on the market and we are going to share only a few of them:
Chevron pattern is very attractive and eye-catching and it gives the space a strong and sophisticated professional look and appearance that is great for both domestic and business settings. Chevron pattern will make the wooden floor stand out and add a lot of excitement and interest to the room.
Since all wood species come in pretty neutral colors, shades and undertones, arranging wooden planks in Chevron pattern allows for countless décor and style options without your floor looking to overwhelming. Thanks to this feature, Chevron pattern won't make the room appear smaller and less spacious that it is.
The diagonals of Chevron pattern can actually help smaller spaces look larger and wider.
Since the design is very "regular" and consistent, this will add a lot of structural stability to the room and work as a strong "base" for different types of interior design.
Chevron pattern is not only an amazing option for hardwood flooring, but also can be achieved out of other materials such as tile, luxury vinyl, engineered wood flooring, laminate and more.
Chevron hardwood pattern originated in France in the 17th century, where it was invented as a substitute to the hard-to-maintain marble floors in the castles and the homes of the wealthy people, while still looking good enough to be installed in such an important places and manors. With years and years, the Chevron hardwood pattern got more and more popular to the time in the late 1800s, when Chevron pattern was a feature in almost any Parisian home. From that time on, Chevron parquetry was no more an option for the noble folk only and a luxury, but everyone was able to enjoy its beauty and elegance. This beauty has never changed through the years and Chevron is still one of the most highly preferred patterns available on the current market.