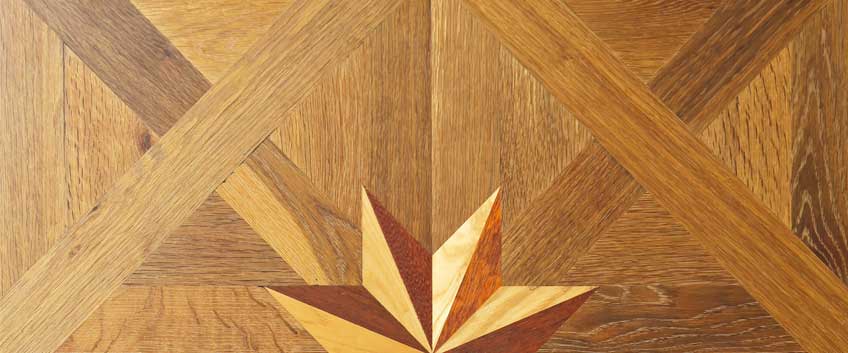 Hardwood floors are all very beautiful, we can all agree with that. However, some people are really into hardwood floors and they see them as a true piece of art. If you want to go that extra mile and have an entirely different, unusual and very, very beautiful hardwood composition under your feet, then there are many ways to do so, but one of the most fascinating and attractive ways to sass up and spice up your hardwood floor is by decorating it with borders, medallions or laser inlays.
So here are a few ideas for you about how to fancy up your interior design and make a bold statement with the help of attractive hardwood design:
Custom elements
Although the well-chosen pattern, wood species and finish can add a lot of attractiveness to your interior design and make your floor stand out and be the focal point of the room, custom elements are the perfect and creative solution for all those of you that are tired of wooden planks fitted in rows, without a bit of imagination and inspiration. Custom elements like borders, medallions and inlays are the perfect way to get super creative and add a lot of uniqueness and bold personality to your floor and to your space too. Hands down, there is hardly anything more eye-catching than a beautiful hardwood design! Although these custom elements are considered to be a little luxury at a pretty sassy price, we guarantee that it all worth it, because of the beauty and appearance you are going to enjoy for many years to come!
Borders, Medallions, Laser Inlays
These three designs are definitely going to make your hardwood floor the focal point of the room and draw all the attention. As you may guess, matching them to the entire design of the room is very important. Since we have so much going on the surface beneath our feet, it is easy to guess that all the other decoration and your furniture choice have to be a lot more settled down and simple in order to create a perfect balance in the room and not make the setting too overwhelming and intimidating. Choose simple lines, minimalism, earthy and calm colours and reduce the bold decoration twists to the bare minimum and let your floor make a statement.
Another important thing you have to focus on is how your bigger furniture pieces will be placed, because and after all – you are not paying that much extra money to have a border and then cover it up with a bed, dresser or a dining table, right? So if you are planning to spend that extra money on a border, medallion or laser inlay, be sure that there is nothing to cover this beauty. Think creative of your space and unleash your imagination, after all, style and decorating is all about having fun and you are the one enjoying it, there are no rules!