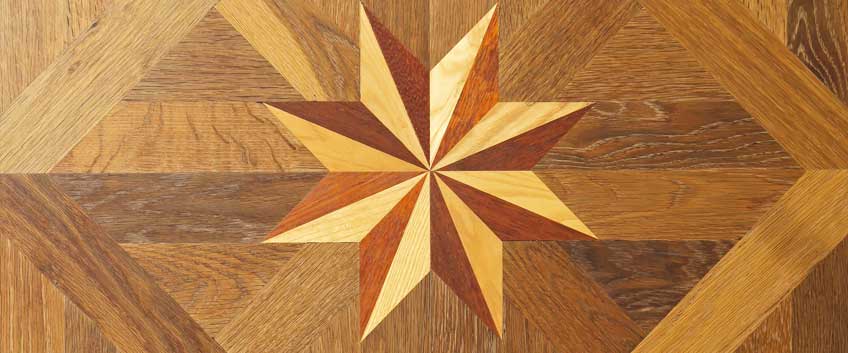 One of the main advantages of hardwood floors before all other types of hard floors is the variety of design options you have. And here we are not talking simply about the elbow grease requested for creating beautiful wood flooring patterns and design, but also for the most effortless patterns you can ever see – those that are made by nature. Of course, when these two aspects are combined, then you can enjoy flooring that is one-of-a-kind and really attractive.
One of the most popular wood flooring options are the patterned ones. They are unique and beautiful, they are elegant and stylish, they can match any style and taste because they come in a great variety of options. Patterns elevate the look of any wooden floor and of any room, where installed, way beyond the typical straight installation of planks (although this is also very beautiful and creates another atmosphere). Some of the most popular patterns are called Random Width, Diagonal, Parquet, Herringbone, Chevron, Picture Frame and each of these adds its own beauty and presence, so let's learn more about them!
Random Width
This patterns usually uses three different widths with not that much of a difference in the planks used. Just a quick example – planks may be installed with a row of three inches, then a row of 4 inches and then followed by a row of 6-inch boards and the whole patterns continues throughout the whole room. Of course, there are variations of this style that uses up to five different wood floorboard widths for an extra dramatic and eye-catching look. These patterns can be laid both diagonal and parallel and will make small rooms appear more spacious. It adds a natural and simple, yet rustic and vintage feel to your home.
Diagonal Pattern
In this case boards are installed parallel to each other and at a 45-degree angle to the walls. This pattern is a great option when the subfloor is made out of plywood because it adds stability and solidness to the floor. Yet again, this is another pattern that makes the room appear bigger and airier.
Parquet
If a parquet wood flooring is installed by a true craftsman, then it will be a true masterpiece of art! It is often associated with Baroque, French castles and luxury and its geometric shapes add a serious twist to any space. More contemporary parquet patterns are made out thinner strips than in the near past and look like a work of art. The design possibilities are endless!
Herringbone and Chevron
These two are the most popular parquet patterns, similar to each other in many aspects. They make a stunning addition to any home and are a real focal point of any room! Although these are recommended for a larger room, the choice of colours can make then suitable for even tiny spaces. With herringbone, planks are laid on a diagonal and overlap at the top, while with a chevron pattern, the pieces are laid on a diagonal and meet in a central line.
Picture Frame
These flooring patterns are installed around the perimeter of the room and they are a very decorative and unusual option, adding a lot of character to the room. This option may include strips from the same or from different colours, wood species or widths.