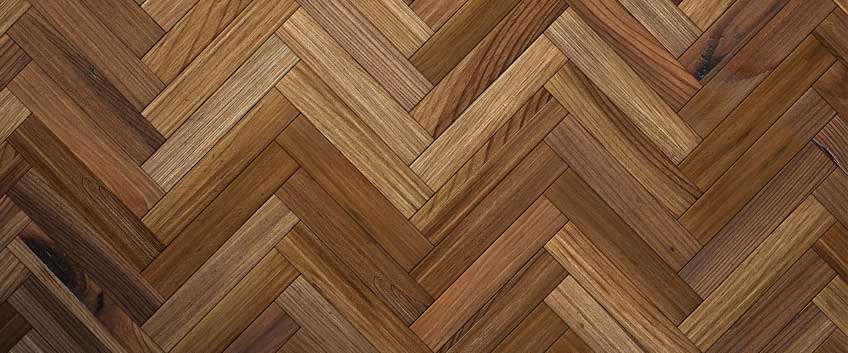 Herringbone wood floor pattern is among the most popular looks for already many centuries. That is right, the history of the herringbone pattern brings us back to the 17th century, however today this wooden flooring type has enjoyed a few improvements. In fact, herringbone wood floors are preferred in many buildings and from people with different styles and interior designs at their places. Such as any other natural wood floors, they are very solid and long-lasting and at the same time, they are pretty easy to maintain. But the main selling point with herringbone-patterned floors is their unique beauty and classic elegance. The herringbone pattern resembles a herring or fish skeleton and it is very similar to the chevron pattern, however, it differs with a more complex conception and looks. Although herringbone pattern is very popular for fabrics and many other features of the interior design and personal style, its real and complex beauty is best portrayed in a flooring composition and matched to the natural beauty of wood and the big variety of colours and shades.
Although it is possible to find a flooring specialist to be able to install a herringbone solid wood floor the old-school way, the modern market offers another improved alternative with the same impressive beauty. Engineered wood herringbone parquetry stands for wooden boards that are pre-constructed in accordance with the desired client look and composition. Besides the fact that installing an engineered wood herringbone-patterned floor is way easier and faster than hand-made solid wood parquet floors, which installation usually takes weeks, engineered wood is also a very durable, long-lasting and flexible option.
In general, engineered wood is made out of real wood layers that are glued together crisscrossed and this is the main concept that preserves the fitted floor from the destroying impact of moisture and aggressive environment. Unlike solid wood, an engineered floor is significantly more hard-wearing and moisture-resistant, which makes it a better choice for areas and building where humidity and moisture are issues. In addition, when installed engineered wood looks exactly like solid wood, it comes in a wide variety and colour palette, it is easy to maintain and also can be re-sanded and refinished, when required and finally, it can be installed where solid wood cannot be – usually over the damp and uneven subfloor.
When it comes to fitting, every flooring specialist will tell you that there is nothing easier than installing engineered wood floor and this is something you sadly won't experience with solid wood parquetry. Especially when it comes to a herringbone pattern, which is pretty complex and needs an experienced eye, this can takes a long time and although the final result worth it, you can achieve the same look for less time, money and energy with engineered wood. Purchasing an engineered wood herringbone-patterned floor means that the boards are delivered with the design already in place and with a perfect finish applied that offers long-lasting protection and preservation of beauty and condition.
If you wonder where the herringbone design would suit them best, here are a few recommendations we can give you, although at the end of the day it is always your choice and how you feel about it. In general, herringbone design is very universal and it suits almost any style, interior design and personal preferences. Many people with different personal styles are fascinated by the beauty of the pattern and want it in their homes and workplaces. However, our advice is that since herringbone is pretty complex and because of that pretty engaging pattern, it will suit the best more spacious rooms, where it can be an impressive focal point.