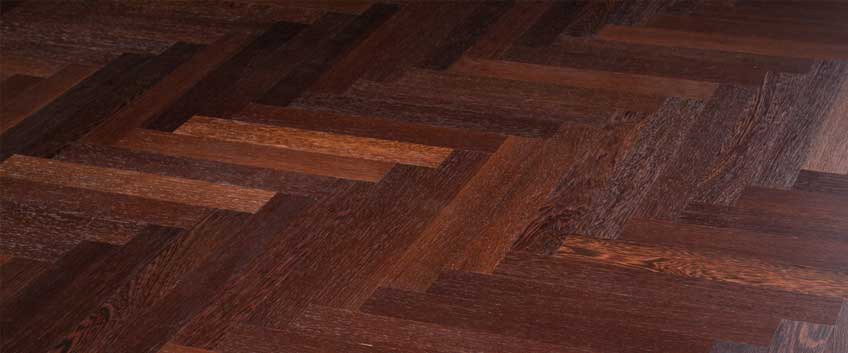 There are so many different types, groups, tones and colors you can choose from, when it comes to customising the look of your parquet flooring. With time manufacturers and designers get more and more creative and it is a current trend to be bolder and more inspired when choosing to transform your existing parquet flooring with the help of colours and undertones. In fact, it is all up to you, your personal taste and the needs of your project and because of that it is called customising – you can set your imagination free and be as creative as much you feel comfortable with your choice.
Although following current trends is the best way to stay on top of fashion and interior design, this is not the only way to enjoy an extremely beautiful and unique floor. Because most of the trends simply doesn't work for anyone. Dark-coloured wooden floors, for example, is current, but a bit of a controversial trend. While darker floors gain more and more popularity for the last couple of years, they are still not everyone's cup of tea and it is not mandatory to be right up in your alley. Combining dark colors with the already super attractive and interesting patterns of parquetry makes this trend even more dramatic than ever. So, if you are a fan of such wood flooring style, or you are simply interested in this trend, here are our ideas about why and when to choose dark colours over any other colour available for parquetry.
Although light and medium brown colours, as well as reds and golden shades, are considered to be the ultimate provider of warmth, cosiness and comfort to any space, they are not the only option. Darker colors can play the same role as the above mentioned shades and turn the room into a cozy and warm space. Simply be sure to choose darker brown colours or dark colours with warm undertones in general.
As regards, most of the naturally darker wood floors are made out of walnut, which is one of the greatest wood species out there. Walnut floors are very popular for both domestic and commercial setups because of their stability and long-lasting power.
An ideal space for fitting darker wood floors is a room with a lot of sun, a bright and airy one. Because of the fact that dark colours can make space appear smaller, boxier and a bit overwhelming, a lot of natural light will balance the scene and give the chance to the dark wood to do its trick and add luxury, a bit of drama and a lot, a lot of beauty to the room. Sunlight will make the darker panels fully vivid and attractive and highlight their rich beauty.
However, if it comes to a really small room, better stay away from such dark colours. If you still want to experiment with the dark beauty look, then be sure to choose a simpler parquet pattern, otherwise, you risk making the whole space too overwhelming and engaging with all those complex patterns, shapes, forms, colours and undertones. Dark colours bring the feel of both simplicity and attraction, so you can play around and achieve some unique appearance.