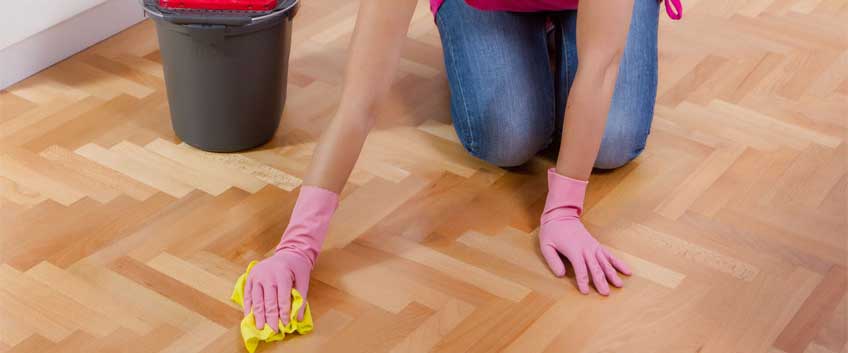 Wooden floors add value to any place where installed and they also can be the most essential, beautiful and important part of any room, working as a focal point, bringing cosiness, warmth and elegance. Wooden floors are great for so many reasons and they actually can tick all the boxes of the requirements anyone could have for flooring. Easy to maintain, long-lasting, resistant to many issues, sleek and classy, matching any style and interior design and more, and more, wooden floors are the perfect option for… well, for anyone! In order to keep their beauty and tip-top condition for as long as possible, you have to learn how to clean them properly. The proper and professional cleaning will not only keep the beautiful appearance of the floor but also protect it from any eventual issues, so stay tuned and keep reading for our professional pieces of advice on how to clean your wooden floor properly!
To ensure your floor looks as beautiful and flawless as it looked when it was installed and even better than that, you have to make sure you look after it in a proper way. When it comes to prefinished floors, the polyurethane finish that was applied at the factory and before the floor is installed, need to be treated the proper way and accordingly. In fact, cleaning is not a hard thing at all and following an easy and simple routine that is not time-consuming at all is just enough. Sweeping all the dirt and debris that enters the house with a broom with soft bristles is recommended daily. Debris, dust and dirt particles otherwise work as an abrasive product and they can leave fine scratches, that building up with time would affect the sleek appearance of the floor's surface. In fact, bacteria and allergens build-ups are a reason for an unhealthy indoor environment, so you have to make sure you clean it regularly because it will accumulate a lot of dirt with time. Then, you can always use a vacuum cleaner, simply be sure yours is appropriate for hard floors, otherwise, you may scratch it additionally. While cleaning, make sure not to ignore and miss a single corner and nook, otherwise, a lot of dust would be accumulated with time at the hard to reach places.
In fact, the cleaning routine and its frequency are totally up to you and up to your individual requirements. Of course, busy areas, especially in commercial premises need more frequent cleaning. At home, kitchen floors are another thing you have to pay special attention to due to hygiene reasons. However, depending on your lifestyle you can easily practice and learn how frequent your floors will need a good cleaning. Be sure to stay tuned for part two of the cleaning series we have prepared for you, where we give you even more pieces of advice on how to clean the prefinished wood floor properly.