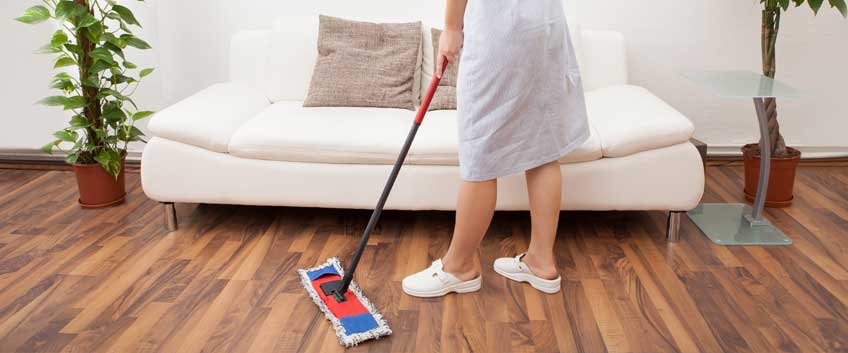 Have a look at part one of our how-to for wood floor cleaning series! Today we will reveal even more professional pieces of advice on how to clean properly your prefinished wooden floor, so you can make sure that it is not only amazing and flawless-looking but also properly sanitised for a healthy indoor environment and also protected for a long time from the most common issues. Well, cleaning is very important to keep the floor in tip-top condition and to be able to enjoy it for decades looking like brand new, however, your cleaning routine doesn't have to be complex at all. Here are a few more tips for a proper prefinished wood floor cleaning routine that doesn't require too much energy and time. Simply follow what the experts recommend!
In part one of the article we have already recommended sweeping your floor with a soft broom and cleaning it with a vacuum cleaner regularly. Today we will talk more about how to deal with more stubborn dirt and debris. The frequency of your floor cleaning routine is totally up to you, however making sure you maintain the floor regularly is recommended, otherwise dirt, bacteria and allergens will be accumulated in a short period of time and they are the main reason for an unhealthy indoor environment.
Cleaning your floor with water and liquid products is a subject of extra caution and attention. In fact, one of the biggest enemies of wooden floors is moisture, which can cause many major problems and finally even make you replace the whole floor and buy a new one. So, when mopping wood, make sure your mop is damp and not wet, otherwise, you may cause the "movement" of the boards that could lead to cracked and even broken timbers with time.
Sometimes dirt and stains are pretty stubborn and you cannot just remove them with a damp mop and the vacuum cleaner. In situations like this, you can use a cleaning product and you have to be very picky when buying one. Your usual supermarket all-purpose cleaner won't do the job. The product you are going to need is made exclusively for wooden floors and if you are in doubt of what to choose, you can always ask the local provider or professional flooring team, or be sure to check out the manufacturer's instructions. Water-based cleaners are usually safe to use, at least they are recommended for prefinished polyurethane surfaces. Use a product with a neutral pH, otherwise, you may cause discolouration. A mild and balanced neutral pH cleaner would do the job equally well as the other products while being gentle to wood. Products with ammonia, soap and detergents should be also avoided. Always be sure to read the instructions before using the cleaning product, so you can do the best for your floor.