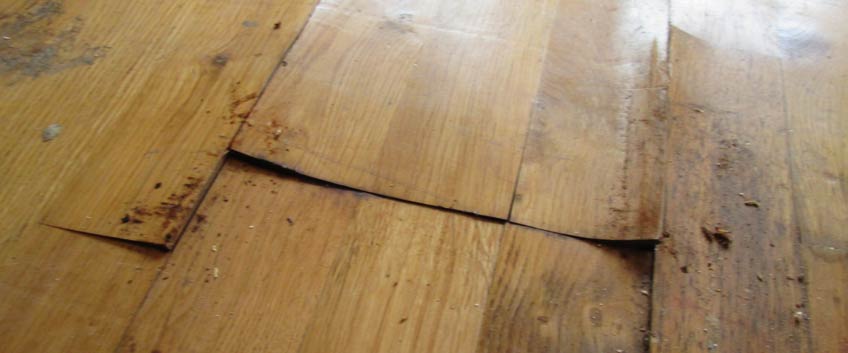 Parquetry is a type of installation of geometrically cut wooden blocks in different patterns. Parquetry blocks are made completely from real wood and when it comes to traditional parquetry – they are arranged one by one over the subfloor, using glue or the hidden nails system. As a real wood product, parquetry blocks are fitted while structural gaps are left to allow the "movement" of the floor due to humidity and temperature changes, without causing lose, cracked or broken blocks. In general, moisture and high-temperature amplitudes are not the best things your wooden floor will experience and it is its natural character to react to these. There are some ways to prevent issues, caused by the expansion and contraction of the wood, but they can't work every time with the same success and some floors just start to suffer buckling. Buckling is when the wooden blocks get separated from the subfloor, when the nails or glue get loose, which is often accompanied by "ballooning" or cupping on the surface.
As we have already mentioned, the main reason for your parquet floor to start buckling is moisture. Moisture and humidity affect the porous structure of wood and makes it contract and expand, which has an impact not only over the structure of every block but affects the whole arrangement and make the blocks separate from the subfloor. Moisture can be caused by:
Areas without ventilation for a long time
Excessive job site moisture
Leaking roof
Wet slab
Pipe leaks and drainage problems
And then there are some factors that can make the problem even deeper when:
The parquetry blocks are not installed properly
The subfloor is not prepared before installation, including moisture, evenness and cleanness tests
Poor quality or incorrect adhesive and nails
There are no structural gaps left during the installation (measurements for expansion gaps are apply to the average temperature – ca. 20-22 C and humidity – ca. 40-45%)
Now, if your parquetry floor is already buckled, here is how it can be fixed. Before starting any restoration and repair job on your floor, please keep in mind that hiring professionals are the most recommended. However, if you prefer to DIY the project, be sure to ask for professional advice. Dealing with wood floors, especially parquet floors, requires a lot of knowledge and experience.
First of all, you have to make sure you fix the excessive moisture condition, whatever the reason for that can be. Otherwise, the same problem will pop out over and over again and finally, it will totally ruin the whole floor and its stability. Buckled parquet blocks can be fixed locally, without dealing with lifting and re-fitting the whole floor. Usually, the loose blocks are lifted, the subfloor underneath have to be cleaned and dry and then the blocks are re-installed, glued or nailed down and for a sleek look can be spot treated with a slight sanding and recoating. However, if the damage is serious, wooden blocks have to be replaced with new ones to match the pattern and colour. There is a big change in bulged floors to dry out and return to their previous condition on their own, especially when not exposed to moisture for too long. However, buckled blocks don't have to be neglected, otherwise, they can get permanently buckled, cracked and discoloured.