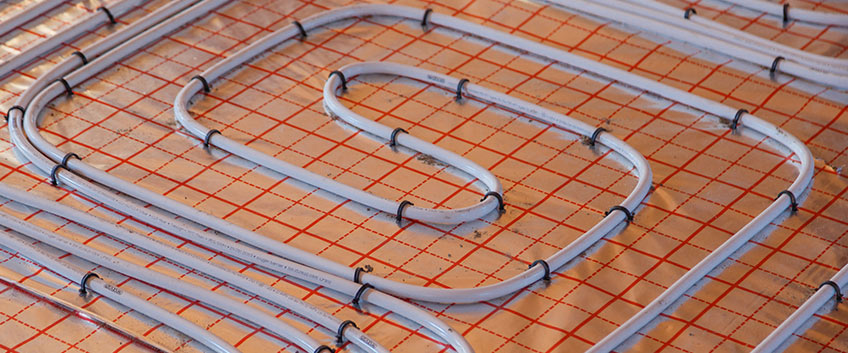 Real wood floors are naturally cosy. They look cosy and warm, they feel cosy and warm. Which makes them a perfect choice for every home, especially for homes located in areas with cold and long winter days. What makes hardwood floors even a better choice if you want to enjoy a warm and fuzzy home is one of their main advantages – parquet floors can be paired with the underfloor heating system. An underfloor heating system is a decision you will not make instantly, however, it is definitely one worth considering. It is a great solution that can help you enjoy your feet toasty warm in the winter while the heating and electricity bills won't break the bank. Meanwhile, an underfloor heating system and parquet flooring are matches made in heaven. This adds one more redpoint for the team of parquet flooring that is now not only extremely beautiful, durable, long-lasting, hard-wearing, and versatile, but also very functional and comfortable. Thanks to this match made in heaven, cold feet will no more be an issue you will have to deal with ever again.
Both underfloor heating and parquet flooring complete each other perfectly. Wood is probably the best choice of material when it comes to the underfloor heating system since it is naturally warm to the touch, unlike stone flooring or tiles, and it provides the best heating output thanks to its good insulation. Wooden material is dense enough to not let the heat escape the room but porous enough to ensure the whole room will be heated. As a result, the pair of parquet flooring and an underfloor heating system is a cost-efficient and very convenient choice for many households.
So as you can see, parquet flooring paired with underfloor heating seems to be a perfect solution, no matter if it comes to heating a domestic or commercial setting. Choosing the pair means you are choosing cost-efficiency and comfort. If you are already considering this option for your home or working place, here are some aspects you would like to consider.
Engineered or Hardwood Parquet Flooring?
Thinking of pairing a new parquet floor with underfloor heating? Then there are two options for you to choose from – you can either go for the more modern and innovative engineered wood parquet flooring or the classic hardwood parquet flooring. Engineered wood is a product designed for the manufacturing of flooring. It is made of real wood and wooden materials only, however, unlike hardwood timber floors, engineered wood parquetry is designed to withstand the impact of humidity, moisture, and temperature changes. Thanks to its advanced structure of layers of plywood or softwood that are glued together crisscrossed and form the core of the planks then topped with a layer of hardwood, engineered wood parquet floors contract and expand significantly less when affected by changes in their direct environment.
The natural movement due to increased moisture levels and temperature are more typical for the traditional hardwood parquet floors where the planks or blocks are cut from a single piece of timber. With all that being said, naturally engineered wood makes up for the best choice when you want to pair your parquet floor with an underfloor heating system because the changes in the temperature caused by it will affect the floorboards less and the risk of issues and imperfections caused by the expanding floorboards is minimised. However, if you are a fan of the classic hardwood parquet flooring, you can still pair it with underfloor heating without worries.
Newly Installed Parquet or Existing Upgrades
Now, the next big question is when is the best time to consider the installation of an underfloor heating system. Of course, you can still have an underfloor heating system even if the floor is installed years ago. However, if you want things to be extra easy and hassle-free, the best time to install the underfloor heating system is before the floor itself is installed. The underfloor heating system is installed under the floorboards. If the floorboards are already laid down, it means they should be lifted first. The whole process takes double the time and adds some additional costs to the overall project. In addition, there is always the risk of damaging the floorboards while listing them. Therefore, for a more time-saving, affordable and overall effective and effortless project, make sure to plan the installation of an underfloor heating system before the floorboards are installed.
Now when you know everything important about underfloor heating systems and parquet flooring and you want to start such a project, make sure to contact the experienced and knowledgeable specialists in the field and you will be able to get the best quality of service and flawless results.