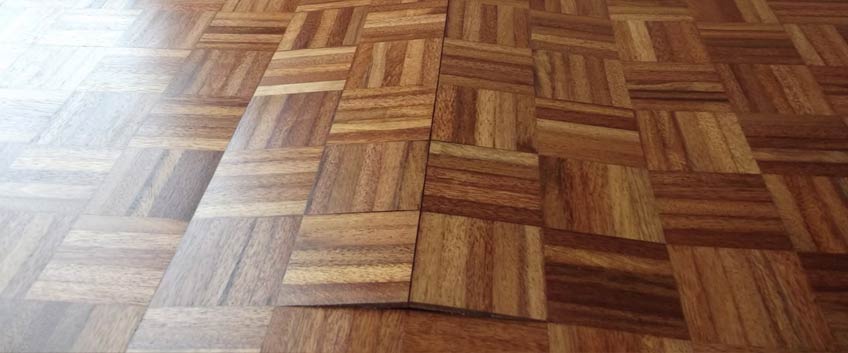 Parquetry is, for sure, one of the most beautiful and unique types of wooden flooring and because of that fact it is common to meet parquet flooring in a lot of domestic houses and commercial areas. However, nowadays there is a lot of cheaper hardwood or manufactured wood alternatives and parquet is more or less neglected. Although, back in the days, parquetry was innovational and gained so much popularity that you can practically found it in any old and not renovated European building, which is at least over 100 years old. It is unfortunate to see the traces of time and wear and tear on one been amazing parquet wood flooring, especially with the industrial progress and the many options we have today to help our wooden installation and bring it back to life. So, if you don't want to watch how your beautiful parquetry gets old, worn and the colour fade, be sure you provide the best maintenance, according to the highest standards in the branch and a timely reaction when the first signs of flooring issues pop out.
One of the most common parquet flooring issues are the loose blocks. With time and due to humidity, wear and tear, high traffic, etc. the parquet blocks can get loose. Because the wood floor adhesive used loses its power with time and especially when the flooring experiences contraction often, parquet blocks can unfix. Don't worry, because fixing loose blocks is actually not that hard. Be sure to lift up the unfixed piece and if there are more than one-pieces, which need repair, be sure to mark their places or take a picture, so you won't forget to put the right piece on the right place. When removing the piece, you will find a lot of dirt and debris from the previously used glueing product in the space, be sure to clean everything and then add priming product and when it is dry, add quality wood adhesive to the removed blocks and fit them in their spaces. Don't worry if there are gaps, this is normal when reapplying parts of the wooden floor.
Another parquet flooring issues you may meet are scratches and gaps. Besides the structural gaps, left during installation, the "movement" of the blocks due to high moisture levels, different-sized gaps may appear. They should be filled with a quality putty mixed with wood dust, usually collected after sanding. Sanding is great for removing scratches. Some floor scratches are fine and can affect only the finishing tops layer, however, some scratches run deep and penetrate the protective layer, affecting the bare wood underneath. Be sure to hire an experienced technicians if your parquet floor needs sanding and refinishing because only the experts can do that perfectly and with a long-lasting effect.
Be sure to contact Parquet Floor Fitters customer service member if you want to know more about the topic if you are experiencing a parquet flooring issue and need flooring technicians to help you in London area.