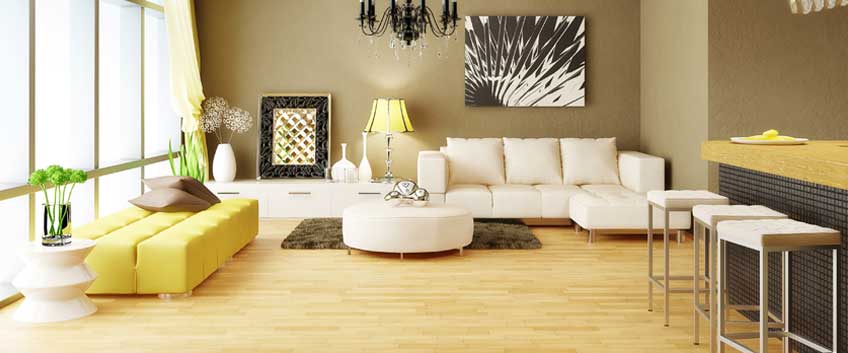 Hands down, hardwood flooring is a central part of every domestic (and office too) interior design, a statement piece and a focal point. Since hardwood flooring is one of the key features of every room, where installed, it is pretty much an essential thing you have to make work with the rest of the interior design… or make the rest of the interior design work with your wooden floor, it depends on what you find is more important. Today we share with you a few ideas on how successfully to mix and match and make sure that the entire room looks coherent, balanced and in harmony.
There is no such thing as an ugly hardwood floor. Rustic, cheaper or knotty, you do not need to have a prime grade floor to make it look amazing. Unless you are really not into the wood, the natural material possesses a genuine beauty, character and charm that is hard to find in many man-made products. So, if your wooden floor is not that appealing and charismatic to you and to the rest, then maybe the issue comes from the fact that the floor, itself, is not that well synchronised to the rest of the interior design.
Use the same species in all areas
Well, it could be tempting, especially if you are a true lover of wood and different wood species, to try and mix all those extra beautiful wood species altogether, under one single roof. However, as they say, too beautiful is not necessarily good, so make sure you are sticking to one or two, but never more wood species with the same, or similar colour scheme, undertones and grain. If you are a fan of wooden furniture, wooden counter and worktops and decorations, then be sure to follow the same rule. In addition, using the same species and colour scheme in the entire house, or for all areas of the place, will guarantee your place looking extra spacious and put together and more cohesive, not intimidating and overwhelming at all. If you still want to add some extra touch and spice out your space a bit more, then bet on different lengths and widths of the wooden planks, not different grains, colours and species.
Highlight one or two rooms
Drag some attention to one or two rooms of the house by complimenting them with wooden flooring (but always keep in mind the size and shape of your home and work with what you have). Sometimes, although we are big wood flooring lovers, even we can admit that it looks classier and more elegant if you install wooden flooring in one or two rooms of the house only and stick to a more simple and minimalistic design and choice. One or two "wooden" rooms of the house can be really effortless and smart decision, however, you still have to make sure you are sticking to one main colour scheme and use a similar colour palette for the rest of the rooms, no matter if your choice there is tiles, carpet, vinyl or whatever it might be.
Satin finish
Satin finish is probably the most obvious choice for almost every house, office and space since satin finish looks very classy and effortless, it is super easy to maintain in perfect condition, very functional and practical and significantly more long-lasting. Just imagine the struggle and hassle of maintaining all those extra glossy wooden surfaces in perfect condition, when every little scratch is looking ten times more visible, compared to the rest of the shiny surface. Completely matt finish, on the other hand, is not that well working for most of the cases and it is hard to style around. The satin finish shows dents, scratches and dirt less, it is hard-wearing, highly recommended for high traffic areas.
Stay tuned for part two of our design article series.