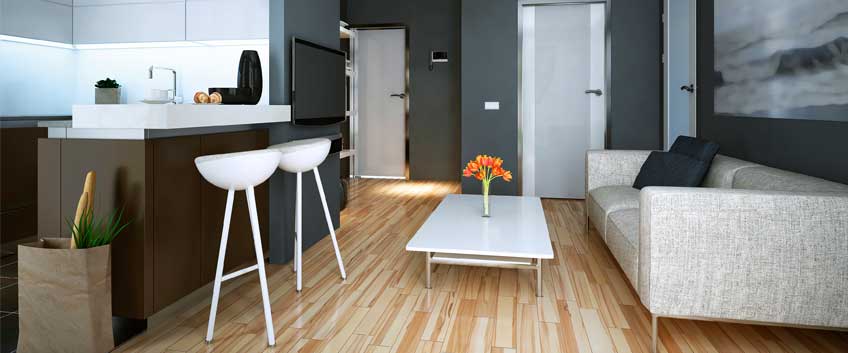 In today's article we continue with sharing with you even more tips and tricks on how to match the entire interior design of your house, office or space with your hardwood flooring in order to make everything look very put together, balanced and not overwhelming and intimidating at all.
Choose your floor's color before the paint color for the walls
After all, real wood flooring is a pretty serious investment and you definitely do not want at the end, when your whole room is finished, to notice that the colour of your walls and your floor simply do not work together. Re-painting your walls is a far easier and cheaper thing than changing the colour of your wooden floor. Because of that, you have to pay attention to the wood's colour first and next try and make all other colours work together in harmony. It is important to mention that you are much more limited on floor stain colours than wall paint colours, so decide on the colour of your wooden floor first and then carry on with everything else. Decide on red or cool undertones and colours, light or dark colours and this is how to stick to a certain colour scheme that works great together.
Choose wider planks
For the last few years all wood flooring trends are all about wider planks and this trend is definitely here to stay for a long, long time. However, current trends are definitely not the only reason to choose greater in width wooden planks. Besides being more in style, wider planks are visually going to make any place look more spacious, de-cluttered, simple and clean, mostly because of the way natural light hitting the surface. Of course, a big bonus is that there are fewer gaps between the planks, which make the whole construction sturdier, solid, long-lasting.
Decide what wood flooring style is your cup of tea
There is no right or wrong answer right here and it all depends on your personal preferences, style and taste. The main thing we can recommend on this topic is always making sure to pick what will make you happy at the end of the day, make you feel comfortable and glad about your choice, make you enjoy it. Current trends are not mandatory something you have to pay attention to, of they are really not your cup of tea. If you prefer less or more colour variations, here is what to keep in mind: exotic wood species like Brazilian Cherry, Mahogany, Brazilian Walnut, etc. have fewer colour variations, while traditional domestic woods like oak, ash, walnut, etc. offer more rustic and varying in colour appearance between the boards. Dark and very light coloured wood shoes less graining and a more clean and minimalistic look. Lower grades of wood have more knots, colour variation, however, they are not of lower quality. Wood species with close pores are harder to stain in your colour of choice and often come out blotchy. Exotic woods are generally darker and with red undertones.