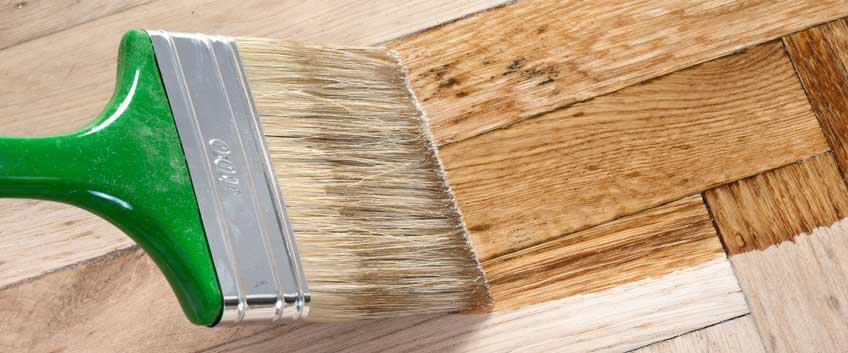 If you are wondering whether to go with an oiled or lacquered finish for your hardwood flooring, this question can come down to a number of factors. Pretty much, it mainly depends on your personal preferences and lifestyle. How often are you ready to invest time in maintenance and cleaning, how much you are ready to invest in professional services, what is the way you want your floor to look like, is the area where the floor is installed very busy and experiencing frequent traffic, and so on, and so on. Well, you should be aware and make the best possible choice for your project, because wood floor finishes are important not only for aesthetic reasons but also in terms of protection, working as a barrier topcoat.
In general, the choice between lacquered and oiled hardwood floor finishes comes down to the choice between long-lasting power, but more likely to be scratched and not that hard-wearing, but easy to restore. Lacquered finishes are the ones giving that amazing glossy and sleek look to the floor. They need a precise and experienced hand of professional to be applied, however, all that is worth it, because the glossy finish looks amazing with every type of wood flooring, wood species. Elegant, sleek and classy, lacquered finishes enhance the beauty of wood, making it even more perfect and polished. In addition, lacquered finishes are very hard-wearing. In terms of re-application and renewal, a lacquered finish can last a few years, if you make sure to maintain it properly.
What requires the re-application anyway? Well, because of the glossy and sleek finish, lacquered surfaces are the first to show scratches and dents. Even the finer scratches are easy to notice with that uniform surface. And well, let's be real, scratches appear all the time because of frequent traffic in busy areas, because of kids and pets, debris and dust and their abrasive effect, shoes, relocating furniture pieces. Scratches are not that easy to prevent and lacquer is maybe not the best idea for busy areas. However, if you still want that look, don't worry, because the refinishing process is not that complex and time-consuming. Be sure to hire specialists to strip off the old and distressed finish with sanding and apply a new one after.
When it comes to oil, oiled finishes are very popular in the last few years. Oiled finishes give the wooden floor the authentic look of real wood and if you are a fan of natural beauty, they are right down your alley. Oiled finishes penetrate through the wood structure and add protection inside, as well as on top of the surface. However, oiled finishes are not that good at creating a long-lasting protective barrier on top, because they experience wear and tear quickly. Approximately two re-oiling services are recommended every year in order to save the good look and condition of your floor. However, the re-oiling process is less hassle and time-consuming than the other wood floor maintenance processes, so oiled finishes worth considering.