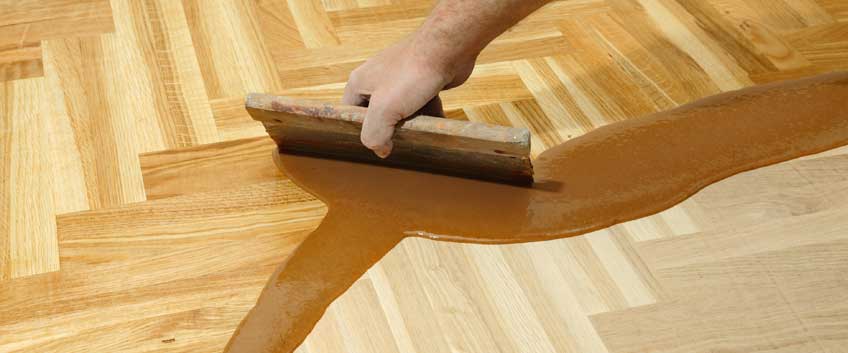 After laying a parquet floor, or when you have an already existing floor for years, you have to make sure it is maintained well and protected additionally with the proper refinishing and re-coating services and products. Wooden floors are great, especially parquetry. They look amazing, they feel solid and sturdy and they are easy to maintain. But with time and when used on an everyday basis, wooden floors tend to lose a bit of their initial condition and appearance. Do not worry, because you can deal with such issues completely and it is easy to bring your parquet flooring back to its initial glory and beauty. Refinishing and re-oiling services are a great way to achieve that and add some further protection and preservation of the texture, grain and colour. Such services are also recommended for a fresher look and when you want to achieve a bit of a change in the appearance by adding a new and unexpected effect. But parquet floor staining is the best way to transform the initial look and today we are going to discuss all these services.
Oil finishes are great for parquet floors. Oils are also very popular right now because they add protection and a great finish and look. Oil finishes look extremely natural and allow the natural texture of real wood to shine through in its full beauty and uniqueness, enhancing the natural beauty of parquetry and the natural pattern of the wood. Oil finishes are also very good at protecting the wood from both chemical and mechanical damages and also prevent all those smaller imperfections that may happen due to an everyday basis usage and so.
There is a misconception many people believe that oil finishes are not long-lasting and hard-wearing enough, but this is not true. In fact, if you make sure that the surface of the floor is prepared with waterborne sealer before the application of oils and that you maintain both the floor and the finish properly, there is no need to think of re-oiling service every year, for sure. Oil finishes make the floor completely protected against wear and tear, spilt liquids, scratches and other possible damages.
Parquet floor staining is another way to breathe a new life to your floor, enhance its natural beauty, or completely transform its look if you want to. When it comes to staining, it is important to remember that only the sanded surface can be stained successfully, otherwise, stains tend to highlight all the existing imperfections on the surface. Creating fully personalised parquet is a huge trend right now and staining can be your best friend if you are seeking a unique and personalised look. Minimalistic or bolder colours and colour combinations – it is completely up to you and your personal taste and staining is an amazing opportunity to get creative and set your imagination free. When it comes to stained parquetry, you should remember that the process will definitely enhance the natural beauty and uniqueness of real wood as well as work great with the pattern in order to add a one-of-a-kind vibe to any room. Parquet floor staining helps you make the most of your interior, modern and fashionable.