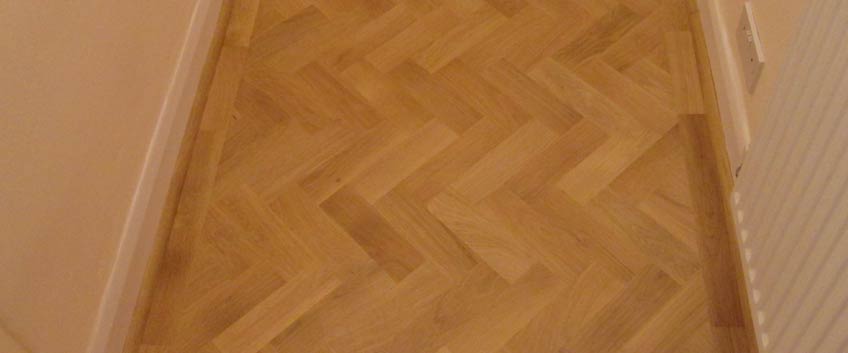 Well, you probably already know that parquet flooring comes with a long list of benefits and is the most eye-catching and attractive type of flooring, bringing uniqueness and one of a kind touch to every area where installed. Although parquetry is suitable for any home and style, some people still find it way too old-fashioned for contemporary tastes. Well, old-fashioned is not the right word, but still, some parquetry patterns tend to be pretty overwhelmed and chichi, which makes them not that appropriate for small spaces. Because of the statement style of some patterns, they can create a feeling of small space and reduce the dimensions of the room even more. Especially for parquetry, made from dark wood species or finished in darker shades. So, considering a parquet fitting project, firstly think of the big spaces of your home, including the hallways.
If you are wondering what type of flooring to choose for your hallways, the answer is simple – parquetry is great. Hallways are big enough to house the complex patterns and rich designs of parquet flooring, without looking too small and overwhelmed. Even choosing a darker shade of wood, your hallway will still look great. On another hand, parquet blocks are the perfect option for hallways and because of their durability and the solidness of the construction. Hallways, no matter if in residential house or commercial building, are usually high traffic areas, where the flooring suffer a lot of daily use. With that been said, wooden floorings are great for such areas, because they are made and fitted pretty solid and can experience a lot of daily use, hard to wear off and resistant to high traffic. Parquetry is also really easy to maintain and clean and won't take you too much time and energy also will save you additional money, because it doesn't require expensive services too often, depending on the way you look after it. Another great feature is that even the most pathetic looking parquet flooring can be transformed into brand new by simply sanding and refinishing it.
In addition, hallways are usually the first place your house or commercial space visitors see and you know how important is the first impression and its long-lasting power. If you want to impress your guests and visitors, parquet flooring is the right way to do so, because it is vibrant, eye-catching and attractive. Even more, when purchasing parquetry you have a wide selection of dozen of wood species and even you can choose between solid wood or engineered wood material. With so much selection, parquetry can match practically any style and desires. Although the parquetry blocks, made completely from hardwood tend to be more sensitive to humidity and the environmental impact, when fitted properly, your construction will last you for a long time.
If you are planning a flooring project for your hallway and you consider parquet installation, we at Parquet Floor Fitters can help you with advice, a lot of information and even doing the service for you in London area.