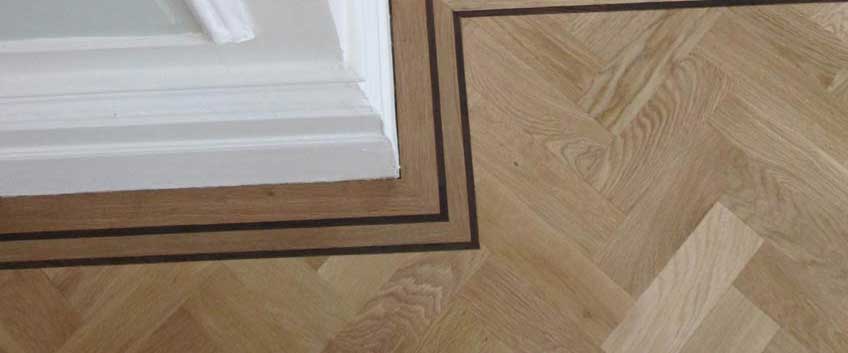 At this blog page, we have discussed a lot of wood flooring and parquet patterns and styles already, but the picture frame border style is not one of them, so today this is what we are going to discuss with you. In order to make the best choice and to meet your taste perfectly, if you want the whole interior design of your home and workspace and your new wooden floor to be a match made in Heaven, then you want to be aware of all the design options there are available. While the basket weave, herringbone and chevron parquet patterns are very popular and you can see them beautifully arranged in many homes and workplaces. So here is more about Picture Frame Border flooring design and what you need to know.
Picture frame border hardwood flooring design is the usage of contrasting colours and widths in order a frame around the perimeter of the floor to be achieved. The main idea behind this design is using contrasts (colours, grains or widths) for achieving an eye-catching and attractive design. This is a fantastic way to achieve a design that is very dramatic and luxurious-looking that makes a statement and provide a lot of individuality, charm and character to your space. So, if a formal and dramatic flair is what you are on a hunt for, then picture frame border design is probably what is for you.
This hardwood flooring style allows you a lot of interpretation and a lot of ways to achieve a customised and unique look by mixing and matching colours, grains and widths. In this case, the options are endless. Only a simple frame around the space can add a lot to the whole interior style that you will be surprised. However, if you are not sure how the picture frame border design will work in your space, here are some ideas for using this style and making it work:
You can use the design to separate rooms or different spaces visually
You can use the pattern to highlight the unique structure and outlay of your home by following the walls of the entire house
Highlight the room's features such as a dining area, or a lounging area
It is definitely worth it having a look and considering this hardwood flooring design because it will contribute to your own house's style a lot and for sure, no matter if your house is modern and contemporary, or traditional, rustic or shabby chic. After your floor is installed, it also will probably need an additional sanding treatment, so be sure to avoid using prefinished materials. After the sanding process, all the possible fine imperfections and scratches that may appear during the transportation will be gone and you will end up with really luxurious-looking and very appealing wooden floor to enjoy for many decades to come.
Be sure to follow our blog for more interesting topics and helpful ideas. Whenever you are in need of professional advice and recommendations, be sure to get in touch with us!