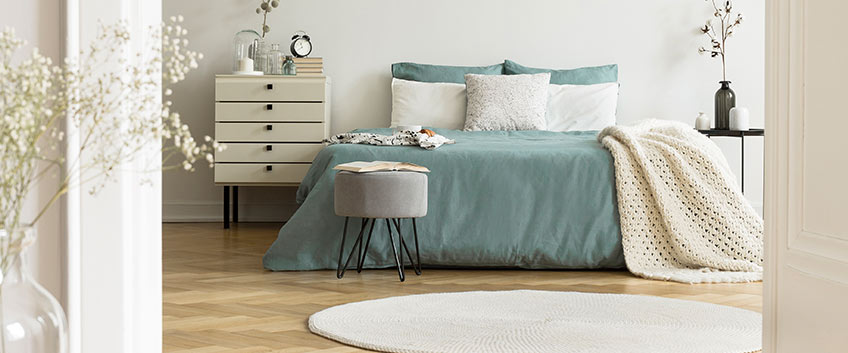 Having a holiday home is something many of us dream about. However, having a holiday home is not just a luxury. It is a great investment and it offers a great return of investment. You can use your holiday home not just for your own pleasure and for spending sunny days at a wonderful place. You can also use it as a side thing that can bring you extra cash.
Naturally, you would like to choose an interior for your holiday home that makes you feel great and comfortable. However, if you decide to rent your holiday home to other holiday goers, you need to also consider an interior that appears to more people and overall has this wonderful holiday vibe and aesthetic. Therefore, you need to choose elements and aspects of the interior of the holiday home that is not just comfortable and functional but also very pleasing and beautiful.
Do you wonder that materials and elements of the interior can offer all that and thick all the boxes, covering the criteria and all your requirements? The answer is obvious – parquet flooring. Parquet flooring is durable, lasting, hard-wearing, functional, warm and cosy, beautiful and versatile. Parquet flooring comes in a variety of styles and design. There is really an impressive selection of parquet patterns and even the pickiest customer can choose and find the exact parquet pattern that perfectly fits the interior style you are going for and complement it or become the statement piece of the whole property and a focal point of the room. Are you considering parquet flooring for the interior of your holiday property? Here are some reasons to choose this type of wonderful flooring to keep in mind.
Parquet Flooring Is Beautiful
One of the first types of flooring ever created and used, parquet flooring used to be reserved only for the wealthy and royal families centuries ago and since then everybody wants to have it installed in their property. There is no wonder why, parquet flooring is beautiful, it looks luxurious, it is intriguing and artsy with a variety of beautiful patterns. Owning a parquet floor is like owning a masterpiece that is also functional and comfortable to use on an everyday basis. Parquet flooring comes in a variety of different patterns. Choose the right one and space will benefit a lot from your choice, making the room appear more spacious and larger. Parquet floors are also available in a variety of colours, textures and finishes.
Parquet Flooring is Durable
Hardly any other type of flooring comes with the durability and hard-wearing power of real wood flooring like parquet. Parquet floors are made to last for a really long time, a whole century if you take proper care of them and even longer. In addition, real wood floors like parquet have the ability to withstand a lot of stress, high traffic, heavy footfall and more. Therefore, they are a perfect choice for a holiday home where a lot of high traffic could be expected if visited by a lot of people and big families. Matched with the right wood floor finish that is designed to protect the wood from commercial-grade traffic, you can pretty much enjoy your floor for a long time still looking and feeling like brand new. And whenever you notice that the floor has experienced way too much wear and tear, re-sanding it is part of the maintenance routine and you are able to bring the floor back to its initial condition, having all of the imperfections and issues removed.
Parquet Flooring is Functional and Easy to Maintain
Parquet flooring is a great choice whenever you are looking for comfort and functionality. First things first, this type of flooring comes with very good insulation properties, which means that in colder weather it will keep the house warm and cosy. Unlike stone flooring or tiles, the parquet is warm and cosy to the touch. It is not too hard and doesn't feel too uncomfortable to the feet. In addition, it is a great flooring choice for people suffering from allergies, because as a natural material, wood is very hygienic.
In addition, unlike a carpet, for example, real wood floors do not trap allergens, bacteria, dust and dirt. All the dust is on the surface and you can easily remove it by vacuuming the floor. Vacuuming is usually more than enough to make sure the floor is clean, this is how easy it is to maintain a wooden floor. In case there is more stubborn dirt that cannot be removed with a quick vacuum, dusting and cleaning the floor with a slightly damp mop and a cleaning product designed for real wood flooring only is also not that time- and energy-consuming.
In a nutshell, a parquet floor is an ideal choice for a holiday home. You can maintain it in perfect condition easily and without investing too much energy, time, elbow grease or money. It will look great for years and be durable and hard-wearing thanks to a simple yet efficient upkeep routine and thanks to the natural strength and solidness of wood. At the same time, parquet floors are probably the most beautiful type of flooring you can ever wish for. They come in a variety of patterns and choosing the right one will complement the interior and make the room appear more spacious.