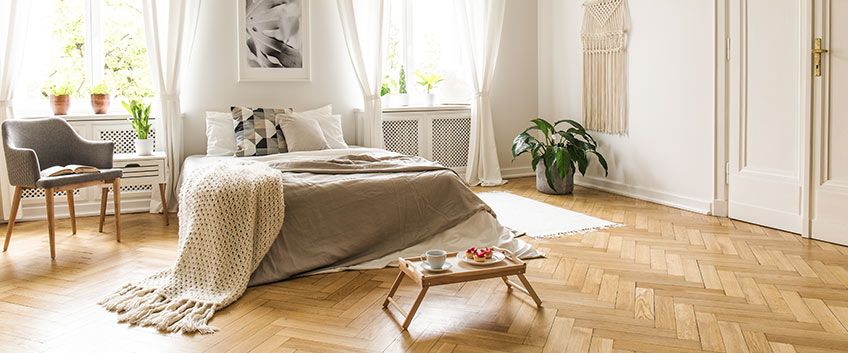 Parquet flooring comes with a rich history, unique appearance, functionality and the promise of durability and long-lasting power. Parquet flooring has been installed in the homes of wealthy and royal families for centuries, later becoming a luxury that everybody can enjoy in their home. There is no other type of wood flooring that brings such a unique style and so much elegance and class into the interior of a home or an office. With the variety of patterns, there is easy to find the right one that perfectly matches your interior and enhances the assets of your space. Every space can benefit from a beautiful parquet floor that, when chosen wisely, can make the room appear more spacious and become the fundament of the interior style of the whole house.
Parquet flooring has a number of distinct qualities and advantages to make you choose it for your home or office. In this article we are going to discuss some of them, so stay tuned if you are on a fence about whether to choose parquet flooring for your space or not. We are sure this article will help you make the best decisions.
Parquet Flooring Is Timeless
Parquet flooring has been around for centuries and surely it will be around for many more. People have enjoyed its unique style and beauty for such a long time and parquet flooring will never go out of style. It is safe to say that parquet flooring comes with the promise of timeless beauty and elegance. No matter what the current trends in the wood flooring world are, parquet flooring will always be in and it will always be a great choice. So investing in parquet flooring means you will enjoy one of its many benefits and advantages – it will never look dated and out of style.
Parquet Flooring Is Lasting
There are not many types of flooring that can beat the hard-wearing and long-lasting power of parquet flooring. In fact, real wood flooring, parquetry included, is a type of flooring that is designed to last up to a whole century and even longer when maintained properly and regularly. This is one of the most hard-wearing types of flooring you will be able to enjoy for decades. In addition, parquet flooring can be re-sanded and refinished, renovated, which means that most of the imperfections and issues can be removed successfully and fully and the floor will be left as brand new even after years of active use, high traffic, wear and tear. Parquet floors are known for their durability and ability to withstand a lot.
Parquet Flooring Is Warm
When it comes to good insulation, parquet flooring can contribute a lot to your home. Parquet flooring is made from natural wood only and natural wood is naturally warmer to the touch during the winter months, when compared to tiles or stone flooring, for example. Parquet flooring ensures the comfort and cosiness of your home. Choose a high-quality underlayment layer under the flooring structure and make sure the floor is intact and all gaps and dents between the floorboards are filled and you will be able to enjoy toasty warm feet and heating bills during the winter that won't break the bank.
Parquet Flooring Is Easy to Maintain
Natural wood floors are naturally hygienic. In addition, there are not a lot of places where dust, dirt, bacteria and allergens can hide on the flat surface of a floor unlike when it comes o a carpet, where dirt and dust get easily trapped. Cleaning and maintaining your parquet floor in good condition is easy and quick. Your cleaning routine does not have to be time- and energy-consuming in order to be effective and provide you with the best results. In a nutshell, parquet flooring is perfect for people suffering from allergies and overall for everyone.
Parquet Flooring Is Valuable
Parquet flooring does not only look and feel luxurious, it is luxurious. But this does not have to mean it is expensive. You are able to find a whole spectrum of different quality parquet flooring coming with different price tags. Some of them will be very expensive, some of them will be very affordable. However, no matter what type of parquet flooring you choose to invest in, you can be sure that it will always increase the value of the property and it will make it easier for you to sell it if you decide to list it on the real estate market.
Parquet Flooring Is Versatile
Parquet flooring comes in a variety of styles. Despite the variety of parquet patterns, you can also choose from a great variety of colours, textures and finishes. There are many wood species used for the manufacturing of wood flooring that naturally comes in different colours. Add to this the fact that wood can be treated with different finishes and stains and it will look different. Overall, even the pickiest customer can find the right design and style of flooring for their home and interior.
Parquet Flooring Is Sustainable
Real wood flooring is a very sustainable choice. It is a natural, long-lasting, and durable product that you do not need to replace every few years, which makes it sustainable. In addition, parquet flooring is eco-friendly. Make sure to always shop wood flooring from reliable and reputable manufacturers and suppliers, because this means the materials for the floor are sourced and manufactured sustainably.