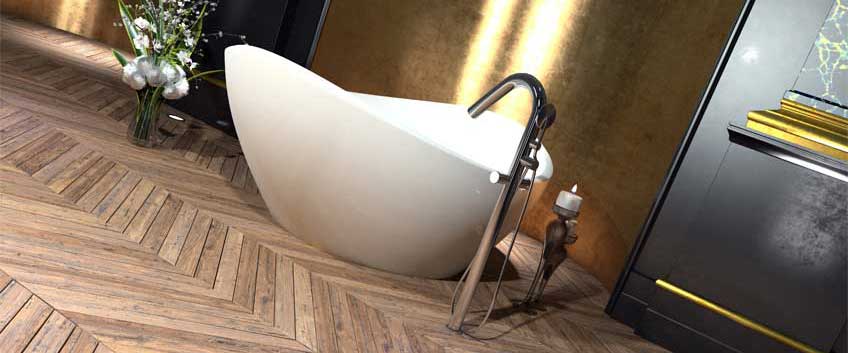 Chevron is a popular pattern, used for decorative and design purposes in many aspects of our everyday life. Blankets, carpets, curtains, furniture, decorations and flooring, chevron is easy to be found anywhere and everywhere, dating back from many, many years ago and making its big return last year. That is right, everyone is crazy about the chevron pattern and you can practically see it on everything, from catwalk fashion pieces and haute couture to the latest flooring designs and trends. In fact, chevron is a popular wood flooring pattern for many years, however, lost its popularity for a few years and now it is back and this makes us very happy, because we love its recognisable "V" shape and how much character it brings everywhere where installed. However, what does chevron-patterned wood flooring really means and what about our professional advice when having it fitted in your property?
Chevron pattern is a type of parquetry arrangement, this consists of small wooden blocks, which are cut geometrically and fitted in a certain composition. Chevron can be arranged diagonal or parallel to the walls of the room and in this composition can be found in many buildings in Europe, which are often associated with luxury, elegance and class, being the most popular in France, as you can expect. Besides the indisputable beauty and uniqueness of the chevron pattern, which brings a lot of character and one-of-a-kind design in every room and space, the chevron is also used for making small rooms appear more spacious and large. In fact, the clean and long lines of the chevron pattern, its not that detailed and engaging nature allow every room, where there is chevron parquetry, to look very spacious, airy and inviting.
If you are already a fan of chevron and want it installed in your home, you have two main options to choose from – solid wood and engineered wood chevron flooring. If you follow our blog you already know the main difference between solid wood and engineered wood flooring materials. Once again, solid wood timbers, as the name suggests, are made from one piece of wood, while engineered wood, although a completely real wood product, is made from multiple layers, which are glued together crisscrossed. This specific structure guarantees more durability, solidness, longevity and wood flooring issues reduced to a minimum.
The classic and elegant look of solid wood, however, is a big selling point for many clients, although engineered wood looks exactly the same as solid wood when installed, coming in a great variety of wood species, colours and grades. No matter what type of wood flooring you are going to opt for, be sure to choose a chevron pattern after all. There are not many patterns and flooring designs that are able to promise you the same brilliant visual effect, uniqueness and unusual character such as the chevron pattern!