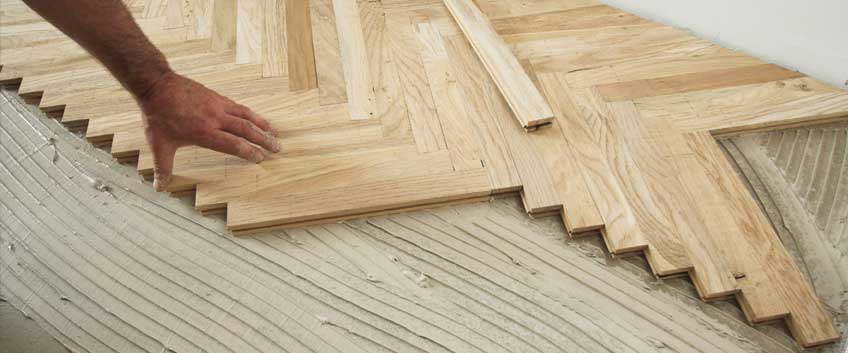 Whether glueing or nailing is the best wood flooring installation method is a question we get often asked about. Because of that, we decided to pay some special attention to the topic and try to make things clearer for you. We highly hope that this article will be useful and helpful enough for all of you that are planning and considering a wood floor installation project. After all, our main aim is to help you make the best choice keeping in mind your individual situation, so be sure to address your additional questions, if you have some, and we will answer all of them!
If you do not have any particular idea of what we are talking about, then let us explain this to you – glueing and nailing are two of the most popular and commonly used wood flooring installation methods. It is impossible to call one of them better than the others available because both nailing and glueing can guarantee a beautiful-looking, sturdy and long-lasting wooden floor and whether to choose one of them all depends on the particular needs and requirements of your personal project and situation.
Nailing down your wooden floor is a good solution for both engineered wood and solid wood floors. It is most advisable if you already have a wooden subfloor, plywood one, or already existing wooden floor you want to cover. When installing over wooden or plywood subfloor, the direction of the boards and planks does not matter. Nailing down the planks over an already existing wooden floor requires the planks to be laid at a 90-degree angle to the existing ones in order to ensure stability and minimise the risk from possible issues and imperfections. Do not forget the expansion gap you have to left around the whole room in order to allow a bit of room in case of enlarging and shrinking of the wooden boards.
Gluing down is recommended for both engineered wood and solid wood floors and the method requires the usage of specially designed wood adhesive that is directly put on the subfloor right before laying the boards over. Glueing is suited for both concrete and wooden subfloors or any other solid surface where the glue will bond easily. Choosing this method of installation your main responsibility is making sure the subfloor is completely clean, dry and level, especially when it comes to concrete that tends to accumulate moisture because dampness will for sure cause future issues and make the whole installation process problematic. If you have any doubt about dampness in future, then we always recommend the installation of damp-proof membrane underlay in order to avoid future problems and reduce the impact of moisture on the wooden boards. It is important to apply the glue in small areas and work your way through the room fast. The better way to apply wood adhesive is in a crisscross pattern, starting at the corner of the room that is furthest away from the door.