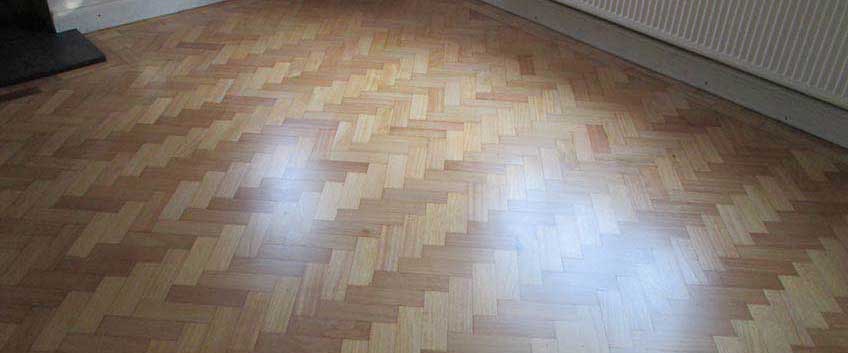 Patterned wood flooring is also known as parquetry and is a popular choice for domestic and commercial properties and all styles and dates from centuries back, when first used as a substitute to the marble floors in the French palaces, which require a lot more maintenance and cleaning in general. Parquetry is a type of mosaic installation of geometrically cut wooden blocks, arranged in a variety of patterns, very beautiful and complex, the most popular of them – herringbone, basketweave and chevron. Parquetry patterns are, hands down, very beautiful and bring uniqueness to the property, being the focal point of every room where installed, eye-catching and vibrant, however, parquetry is not everyone's cup of tea. Parquetry patterns are very bold and engaging and can be too much for rooms in simple and tranquil styles. Here are a few interior arrangements, where parquetry patterned floors suit and work really well.
For middle-sized rooms to appear spacious – The patterns, no matter if on clothes, accessories or floors, tend to visually enlarge. The same goes with the parquetry patterns, which tend to make space appear bigger and spacious. In addition, the clean and straight lines of the parquetry blocks also add some additional space visually. However, when it comes to really small spaces, parquetry can be a little bit too overwhelming and engaging because of the complex patterns. In addition, depending on the wood species used, the wooden blocks can be really dark-shaded or textured.
Shabby chic style – Shabby chic is a very charming, traditional and cosy style, suitable for homes and especially bedrooms and living rooms. If you want to bring the shabby chic vibe and twist in your home, installing a parquet flooring is a very good option. Because of the pale and powdery colour schemes and the almost rustic furniture pieces, the pattern of parquetry will add some edge and something extra to the room.
Traditional interior style – Parquetry exists for already centuries, as we have mentioned its origins from the Versailles palace in France. This means that parquetry can really be called a golden classic. Although there are many new techniques and exotic wood species used for manufacturing parquet blocks, this type of flooring installation is still very elegant and traditional. Match it with old-charm furniture and antique art pieces and you will be really pleased with the final results.
For modern interiors – Even if you haven't expected this, parquet patterns match also very well modern interiors. The clean and simple lines of the futuristic furniture and decorations will be boosted by the eye-catching patterns, which will work as a perfect backdrop.
No matter how you plan your interior design, parquetry is suitable for almost any style and space. But not only because of the vibrant patterns, but this type of wooden flooring is also recommended because of its durability, long-lasting effect and easy to maintain nature.