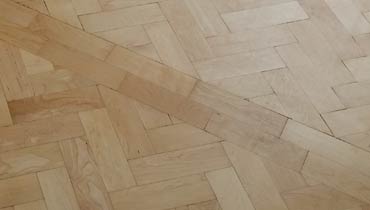 Well, it is not the most common thing to find parquet flooring in a club or bar. Usually, because of the more affordable price, club owners prefer laminate or engineered wood, which, in addition, are also easier to maintain and clean and tend to have the fame of more sturdy and long-lasting. Plus, laminate and engineered wood planks are easy and quick to install and don't require a long break for the business. However, London is a place where hundreds of new entertainment centres open door every year and it is not that easy to stand out from the crowd and impress future clients.
With such competition on the horizon, you probably are going to need to spend more time, energy and money on creating your unique ambience in your bar or club, in order to impress and draw clients in. Parquetry is an amazing option to achieve that goal and it will add a lot of benefits. If done properly, clubs and bars parquet floor fitting won't be time and financial consuming at all and this is what we offer to our commercial clients in London.
In fact, clubs and bars parquet floor fitting services in London area have the fame of time-consuming and expensive projects. Parquetry is a type of mosaic installation, where small wooden blocks cut from solid wood timbers or engineered wood planks are fitted in different patterns. Imagine the installation as a giant puzzle – every piece has its own specific place and has to have the right dimensions to fit. For achieving this goal, you definitely are going to need a reliable, experienced and knowledgeable technicians, who have not only skills but also are creative and can suggest innovative visions and ideas. The essential part of clubs and bars parquet floor fitting is taking the right measurements of the dimensions of the room so the wooden blocks can be cut in the right proportions.
Wooden blocks can be cut from solid wood timber or engineered wood planks and brings the character of the natural product to the project. That means, blocks, especially made from hardwood, are sensitive to the environment and can unfix due to humidity and if not installed properly. The best way to fit parquet is by glueing every piece to the subfloor. For that reason, the subfloor, especially if concrete, must be dry, even and completely clean, because dust and dirt can react with the wood adhesive and cause movement. Well, "ballooning" is a normal process and it happens with the natural wood products with time and if you want to prevent cracking, loose and unfixed blocks, structural gaps should be left during installation.
As you may see, clubs and bars parquet floor fitting is laborious and precise. But this doesn't mean it will take too much time to be done. Our experts have designed a special installation methodology for our commercial clients and offer clubs and bars parquet floor fitting in London with a timely manner, professional performance, well-organized approach and an affordable price. Now you can get that parquetry construction, which will impress your clients and make them come again and again!
Testimonials
I haven't expected such an excellent result and beautiful flooring. In addition, the both experts are really polite and hard working.
Besides the beautiful parquet floor I have now in my club, I am impressed also by the respect your technics have to the clients and the additional information they provide. I will update you soon on how things are going for my floor and if my clients are impressed.