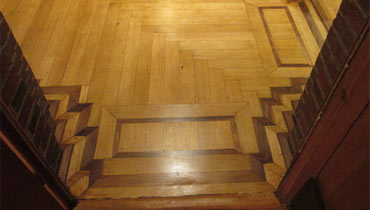 Our expert team includes skilled commercial contractors for the supply and installation of stunning Parquet floors or Natural wood panel restoration on restaurants, and leisure venues - no matter what your need may be! We have many years of experience working closely with project managers; business owners; architects. Even if it's just a small repair job you're looking into getting done today then give us a call 020 70360624 because there is nothing more valuable than quality workmanship guaranteed at an affordable price.
This is the mosaic installation of hardwood or engineered material cut in small blocks and fitted in various patterns no other wood installation comes in. In addition, coming with the character of real wood material, parquetry guarantees the longevity and durability of the construction. Well, it is not that easy to install as engineered wood planks for example and you definitely need a professional team with experience and skills. What we at Parquet Floor Fitters can offer to you for your restaurant parquet floor fitting project in London is timely performance, professionalism, creativity, knowledge and affordable prices.
Parquet floor fitting requires skills, experience and creativity. The installation technique comes in a variety of patterns and each of them needs detailed measurements, proper cut and preparation. Preparing the subfloor is essential no matter if you plan to use solid or engineered wood. Solid wood, for example, is more sensitive to humidity and high-temperature amplitudes and suits dry rooms and subfloor. Although parquetry is cut in smaller pieces, which allows movement, moisture affects the wood, it starts to enlarge and "ballooning" and finally ends up cracking in the worst scenario.
Engineered wood, on another hand, is not that sensitive to the impact of the environment and is also really sturdy and high traffic resistant, but also requires dry and even subfloor for best results. The most common base is concrete and we won't skip the moisture, cleanness and evenness tests, which in case of the concrete pass, we are ready to start with the restaurant parquet floor fitting. Our fitters may suggest moisture barrier underlayment in some cases. Finally, the best way to fit is by glueing the blocks directly to the subfloor and we will do that with high-quality wood adhesive.
With that being said you can see parquetry installation is not an easy job. In addition, when it should be done for commercial restaurant clients, who have limited time and budget to work with, restaurant parquet floor fitting requires a really reliable and experienced company in London with an individual approach. What we at Parquet Floor Fitters can offer to our restaurant commercial clients timely and hassle-free service, which won't interrupt your work for longer, affordable prices, which won't break the bank and a lot of professionalism, knowledge, skills, talent and additional expert advice, tips and tricks.
Testimonials
Excellent job! Thank you once again, I am really pleased! Definitely will contact you in some time, I want to hire you once again for my office.
Good job and also the prices. I am planning a floor remodeling in my restaurant in about two months and I will definitely contact you again. The services you offer for these prices are excellent.