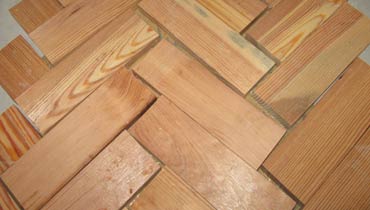 If you are in the retail and showroom business you know well the powerful message of the well-presented item, the first impression you can create in your clients, the advertising. And you also know the main thing people receive information from is the visual component. When presentable, every item, every idea and every philosophy can be sold. Well, this is the main idea of the retail and showroom business, right? Sharing values and visions in order to find followers, fans of the brand, loyal community of customers.
Since the visual part is so important and even can affect the clients on an emotional level, why don't you consider providing them with a really beautiful ambience where they can get inspired even more. And what better choice than parquet flooring?! Parquetry is actually a sign of professionalism, confidence and even luxury, coming from the middle centuries in France, where the marble of Versailles was replaced with the prettier and easier to maintenance wooden blocks. Well, it hasn't lost a bit from its previous glory and nowadays it still remains the most vibrant and eye-catching type of flooring. And if you are planning a retail and showroom parquet floor fitting project in London, we at Parquet Floor Fitters can help you!
What actually parquetry is? It is a type of mosaic floor installation coming in various patterns, designs and styles, also different wood species timbers and even engineered wood, cut in smaller blocks. Besides the obvious beauty and creativity of every construction, from herringbone to basket weave, the wooden blocks come with the specifics of the natural product. No matter if cut from a solid wood timber or made from engineered wood material (which has the fame of sturdier and super solid), parquetry is solid, long-lasting and hard-wearing and especially if fitted properly, it will last decades and even more and won't require extra maintenance and care.
If you follow the advice of the experts for preventive maintenance, future issues can be skipped. Well, wooden material means also contraction and enlarging of the blocks due to humidity, high traffic and the individual environment. But don't worry, this is a natural process and if the retail and showroom parquet floor fitting is done right and by experts, the blocks won't unfix, broke or crack. Once again, parquetry installations are better done by the experienced and skilled professionals, so feel free to call us for London area.
Our technicians know the best formula for successful and proven retail and showroom parquet floor fitting. More than that, our technicians have selected and designed a special commercial parquet floor fitting service for our commercial clients. We recognise the demands of every busy schedule businessman and the limited time and sometimes limited budget the commercial project comes with, so we provide timely and affordable service and won't skip any important stage of the process in order to offer the best quality possible. For example, an essential part of the parquet floor fitting project is the proper preparation and we will do the moisture, cleanness and evenness test for the subfloor, especially if concrete, so we can ensure best results. We will check the measurements and dimensions of the room and do the proper cut of the material, then left it to acclimatise to the new environment. Finally, there is no challenging project for us and we can find the best fitting solution for every floor.
Testimonials
Great work and a lot of respect. I was this unusual idea for bespoke parquet flooring and these guys made it come true! I didn't expected so much creativity.